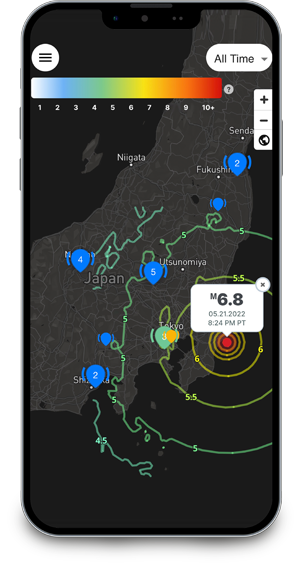 Receive Actionable Damage Alerts & Info in Minutes
Improve Catastrophe Risk Management with Real-Time, Building-Specific Data
Affordable and scalable, Safehub uses IoT sensors and advanced analytics to provide building-specific damage information immediately following a catastrophe, including potential occupancy restrictions, recovery time estimates, and projected financial loss.
Scalable Solution for Your Entire Portfolio
Gain critical situational awareness from any building in your portfolio at your fingertips
Easy to install and use
Cost-effective & scalable
Cellular-based cloud connectivity
Improve Earthquake Resilience with the Safehub Global Risk Platform
Through a combination of easy-to-install cost-effective sensors and advanced data analytics, we provide critical situational awareness within minutes after an earthquake. Building damage and financial loss information will support you as you navigate multiple post-disaster decisions.
A Word from Our Clients & Partners
See what people have to say about Safehub.
Ricardo Gianvito
Head of Systems Analytics & Architecture
Amazon
Dieter Winkel
President
Liberty Mutual Re
Delivering exceptional client service through every tool at our disposal, including this kind of cutting edge technology, is central to LM Re's mission and mutual values. We are delighted to be working with the professional and innovative teams at Safehub and XS Global to deliver this groundbreaking policy to the Mexican market.
Chris Conners
FedEx's Staff Director – Corporate Security
FedEx
Ulrich Wallin
Former CEO of Hannover Re & Head of HDInv
HDInv
Safehub will be a value-add for our corporate insurance clients, and can potentially be at the forefront of innovation for advances in reinsurance solutions, including parametrically-triggered products.

James O. Malley, SE
Chief Operating Officer and Senior Principal
Degenkolb Engineers
Degenkolb is excited to be partnering with Safehub and believes installing their devices in our clients' buildings will provide great value to their post-earthquake response.
Leo Panian
Principal
Tipping Structural Engineers
Safehub's remote sensing and monitoring platform is a game-changer for seismic risk planning & recovery. This technology helps us safely & quickly assess potential damage to aid in repairs and reoccupancy of structures.
Lu Zhang
Founder and Managing Partner
Fusion Fund
The Safehub platform enables corporate resilience and business continuity professionals, who historically have relied on generic data from publicly available sources, to harness the power of Safehub's sensor data in real-time to assess damages and reduce business interruption losses. This combined sensor and software solution has the potential to help organizations both identify and prioritize resources during disaster response operations.
Sunil Nagaraj
Managing Partner
Ubiquity Ventures
Software is leaping beyond the screen to solve more concrete business problems in the real world. Safehub uses smart hardware to help the largest companies in the world manage and monitor their buildings and offices to increase their resilience — a pain we are seeing magnified during COVID.
Gregory Dewerpe
Founder
A/O Proptech
Technologies that enable businesses to better evaluate building structural performance in real-time have become critical, not just to mitigate the economic impact of extreme weather, but for response to the wider climate crisis. At A/O, we are committed to helping real-estate harness technology to help tackle Environmental, Social, and Governance related pain points. Safehub is a perfect addition to our growing family of companies, getting us closer to our mission and vision as a firm.
Raj Singh
Managing Partner
JLL Spark
As a strategic investor, JLL Spark will enable Safehub's growth into JLL's property network to reduce business disruption and increase employee safety in areas with seismic risk.
Why Real-Time, Building-Specific Data Matters
Safehub's IoT sensors and software provide building-specific data when disaster strikes. Damage is building-specific. Regional- or even block-scale information is not enough.
Business Resilience
Minimize business interruption and reduce unnecessary financial loss.
Increased Safety
Use objective data to support critical decisions about escalating, evacuation, and sheltering-in-place.
Reduced Risk
Expedite emergency response and plan for future disasters.
Insurance Data
Strengthen your claims and underwriting position.
Disaster Prevention by the Numbers
With Business Interruption and Natural Hazards the 2nd and 3rd most important global business risks for 2022 (Allianz), it pays to protect against devastation and loss.
Economic losses from natural disasters 2021
Annual economic loss following catastrophes (Verisk)
Potential losses from a single catastrophic event on a single building.
Percentage of businesses that close for more than 2 months don't reopen.
Get Started Today
Request a demo to learn how we can help minimize your catastrophe risk with building-specific, real-time data.